The temple of Rameswaram is as old as the Ramayana. At the beginning, the temple was originally a thatched shed incharge of a hermit. The present structure was the work of number of persons spread over a number of centuries.The pride of places goes to the Sethupathis of Ramnad.The existing records show that in the 12th century, Prakrama Bahu, King of Ceylon constructed the Sanctum Sanctorum around the Moolalinga Sri Viswanath and the Ambal shrine. In the 15th century, Udayan Sethupathi of Ramnad and a Vaisya of Nagoor built the western stone tower which is about 78 ft. high and the compound wall.In the 16th century, Tirumalai Sethupathi built a portion of the southern second corridor. His statue and that of his son RagunathaSethupathi are found by the side of the southern entrance to the Ambal temple.In the 17th century, Dalavai Sethupathi built a portion of the main eastern Gopuram.Early in the 18th century, Ravi Vijaya Regunatha Sethupathi built the Palliyarai and the Mandapam in front of the Ambal temple. Later in the same century, the world famous Third Corridor was constructed by Muthuramalinga Sethupathi. His statue and those of his two ministers are found in the western entrance to the Third Corridor.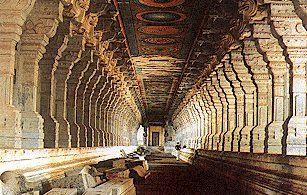 Third Corridor
Outer wing :
East-West - 690 fts.
North-South - 435 fts.

Inner wing :
East-West - 649 fts.
North-South - 395 fts.
Total number of Pillars - 1212
Height of Corridor - 22 ft.7.5 inch
Worship
The temple will be kept open for the devotees from 5 Am to 9 PM ( except between 1PM and 3 PM ). The poojas are performed six times a day in this temple.
Details of Pooja Timings
| | |
| --- | --- |
| Pooja Name | Timing |
| Palliarai Deepa Arathana | 5.00AM |
| Spadigalinga Deepa Arathana | 5.10AM |
| Thiruvanathal Deepa Arathana | 5.45AM |
| Vila Pooja | 7.00AM |
| Kalasanthi Pooja | 10.00AM |
| Uchikala Pooja | 12.00Noon |
| Sayaratcha Pooja | 6.00PM |
| Arthajama Pooja | 8.30PM |
| Palliarai Pooja | 8.45PM |