Rameswaram, as its name implies, is the holy place of Rameswara. i.e.,Iswara installed by Rama. The presiding deity is known variously as Rameswara, Ramalinga or Ramanatha. According to puranas, as advised by Rishis, Rama along with Sita and Lakhsmana, installed and worshipped the Sivalinga here to expiate the sin of Brahmahatya ( Ravana was Brahmin being the great grandson of Brahma himself ).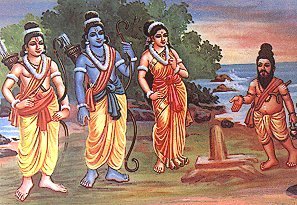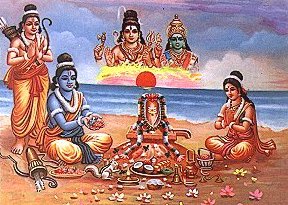 It is said that Rama fixed an auspicious time for installation and sent Anjaneya to Mount Kailas to bring a lingam , but as Anjaneya could not return in time, Sita herself made a lingam of sand. Sri Agasthiya told Rama to perform pooja within the auspicious time. Sri Rama performed pooja according to Agama tradition in order to get rid of Brahmahathya dosham.Lord Siva with his consort Umadevi appeared in the sky and proclaimed, that those who took bath in Danushkodi and prayed the Sivalingam is called "Ramalingam".The Deity there is Ramanathaswamy and the place is hence called "Rameswaram". When Anjaneya returned with a lingam from far off Mount Kailas, the worship was almost over. He got angered and tried to remove the sand lingam by his hands. Sri Anjaneya tried to pull it out with his mighty tail.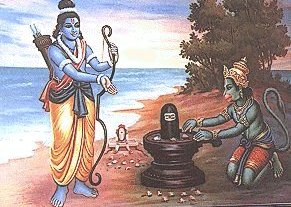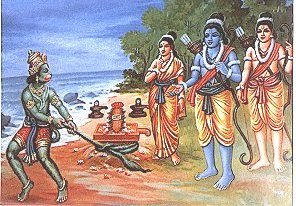 After failing in all his attempts, he felt the divinity of Sivalingam made of sand by Sri Sita.Sri Rama asked Sri Anjaneya to place the Viswanatha Lingam on the Northern side of Ramalingam. He also ordained that the people should worship Ramalingam only after worshipping the Lingam brought and installed Sri Anjaneya. The other Lingam is placed for worship near the Sri Anjaneya deity at the entrance.